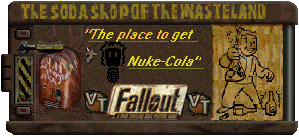 ---

You have entered the Soda shop of the wasteland,

This unoffical Fallout site was created by, Bomb0Droppa.
Hope you injoy my page and please vote for it!

And this is me!
I am a member of the Unwashed Villagers .


---
Fallout was made by,
It is an excellent game. I suggest you go out and buy in, NOW

(: Please vote for my site if you like it! :)

---
Fallout & all images are Copyright 1997 Interplay Productions. Fallout is a trademark of Interplay Productions. All Rights Reserved.
---